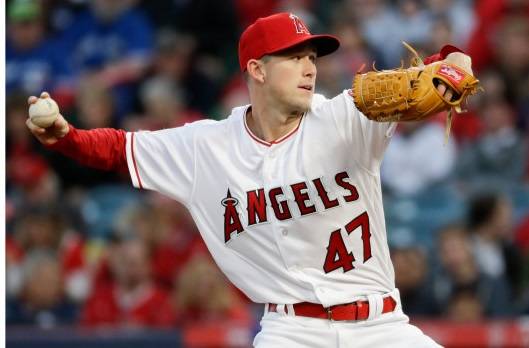 It's the second week of the final period of Tout Daily. Here are some of the players the Touts are counting on to grab the final three Golden Tickets
Howard Bender (Fantasy Alarm, @RotobuzzGuy)
Pitcher: Julio Teheran – Who doesn't like a mid-priced option who has posted a 3.29 ERA over his last 10 starts, including five straight games allowing two earned or fewer?
Hitter: Matt Olson – Facing Milwaukee right-hander Adrian Houser? That sounds like an Olson HR waiting to happen.
Anthony Aniano (Rotoballer, @AAnianoFantasy)
Pitcher: David Price – Price has allowed 3 or less runs in 6 of his last 7 starts while striking out 43 batters in those 37 innings. Pitching in Boston he has a 2.89 ERA and the Rays are 20th in runs per game while striking out more than 9 times per game on average.
Hitter: Anthony Rendon – Rendon has 5 hits in his last 10 at bats with 7 RBIs. On the season he is hitting .319 at home and faces Julio Teheran and his 4.45 road ERA.
Gene McCaffrey (The Athletic, @WiseGuyGene)
Pitcher: Griffin Canning – Not pitching well lately but he's super-cheap and this is a home start against a weak Tigers' attack.
Hitter: Carson Kelly – Has unbelievable numbers against lefties AND against flyballers. JA Happ is both and the ballpark is a bandbox. Not really cheap at $4100 but I'd pay more.
Derek VanRiper (Rotowire, @DerekVanRiper)
Pitcher: Griffin Canning – Eating chalk with one pitcher if you're building around a few Dodgers and Rockies bats in Coors is necessary to make the pieces fit. The Tigers are the team I want to stream against the most in season-long leagues, so having a mid-priced option capable of bringing 20+ DraftKings points with a 5+ inning start should get it done.
Hitter: Bryce Harper – I'm actually buying into some of the adjustments that Tyler Beede has made this season, but on the road in a park that boosts homers, he's in a very dangerous spot tonight. I like stacking the Phillies on this slate, but if I could only roll out one of their hitters, it would be Harper in this matchup.
Charlie Wiegert (CDM Sports, @GFFantasySports)
Pitcher: Adam Wainwright – Time for the veteran to step and lead! Big series with Cubs opens tonight and he needs to set the tone!
Hitter: Paul Goldschmidt – Same with Cardinal hitters. Goldy has been on a homer terror this past week, he needs to keep it going against Cubs
Jeff Boggis (Fantasy Football Empire, @JeffBoggis)
Pitcher: Justin Verlander – Justin Verlander is the most expensive pitcher on Draftkings tonight at $11,400, but he is well worth the investment. He's given up no more than 4 earned runs any of the 22 games that he has started this season. He has close to a 33% strikeout rate and is averaging 26.2 fantasy points per outing. Shane Bieber at $10,600 as another option, but he faces Verlander tonight.
Hitter: Mookie Betts, Paul DeJong, and Robinson Cano – Recently, Mookie Betts ($5,000), Paul DeJong ($4,100), Robinson Cano ($3,300), and Nelson Cruz each hit three homers in a game and they did it on consecutive days. The unprecedented streak of home run hat tricks began with Cano on Tuesday and was capped by Mookie Betts on Friday. Unfortunately, Nelson Cruz is not starting tonight. I like my odds for one of these players hitting at least 1 home run tonight, right?
Todd Zola (Mastersball, @toddzola)
Pitcher: Reynaldo Lopez – Money where my mouth is — I've planted my second half flag firmly on Lopez, he tweaked delivery over the break, added 2 ticks to 4-seamer, throwing (and spinning) curve and slider more. Not to mention, not a bad matchup and price is right.
Hitter: Ketel Marte – Money where my mouth was three years ago. If I were a better marketer, I'd develop a strategy and call it the KETEL Plan.
Steve Gardner (USAToday Fantasy Sports, @SteveAGardner)
Pitcher: J.A. Happ – The Yankees are big favorites tonight at home vs. the D'backs and all Happ needs to do is go five innings to get the win. (And avoid the Ketel Marte land mine.)
Hitter: Tyler White – Yes, his season has been a disaster. But given a new life with the Dodgers and an enviable spot hitting fifth at Coors Field, his $3500 price tag is too good to resist.