On draft day 2013, Paul Singman bought the best team in Tout Wars Mixed Auction. If the league played by Draft and Hold rules, Singman would have won by 18 points over David Gonos.
Paul bought 54 hitting points, third best in the league.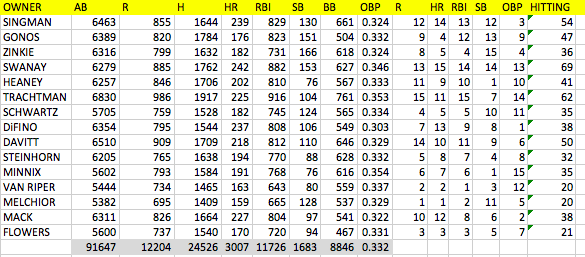 And he bought the best pitching staff, trailed by just a few points by eventual champion Fred Zinkie, who bought an overwhelming number of saves.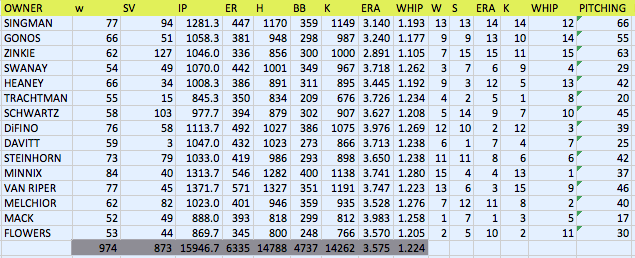 Based on the draft day rosters, Singman won going away. But that isn't what happened.
By the hypothetical measures Singman had a great auction, followed by a terrible season. His moves during the year, as well as the moves of those he was playing against, hurt his team badly, to the tune of -52 points!
I asked Paul what went wrong and he wrote back:
"- I drafted Julio Teheran, and then made a bone-headed decision to drop him after about five starts when his ERA was in the 5.00s. He was pretty good after that.
– Danny Espinosa and Mike Moustakas were big disappointments, and I had them in my starting lineup for longer than other struggling players. (Ed. note: Since he drafted them this wouldn't hurt his hypotheticals unless they performed better after he dropped them.)
– I started Justin Grimm and Erasmo Ramirez, and probably streamed a couple other pitchers that got lit up in a couple starts.
– Had part-time players like Andy Dirks and Jarrod Dyson in my lineup later in the season, which hurt counting stats some.
– Lastly, it didn't help that Jayson Werth and AJ Burnett had tremendous finishes to the season, after I traded them."
My hunch, without delving into this deeper, is that the Werth and Burnett trades hurt him a lot, especially since he got back Gio Gonzalez, who had a mediocre second half. Of course, dropping Teheran was a loss, too, a decision that seemed totally reasonable at the time, but hurt big in retrospect.
What also hurt his team was dealing waiver-wire pickup Yasiel Puig, but that didn't influence his draft-day lineup. The bottom line is that when confronted with a series of decisions, many of which don't have obvious answers, it's possible to make a lot of good decisions (call that a hot streak) or a lot of bad ones (certainly a losing streak). Usually we make some of each and end up like most teams, not much helping or hurting our teams after the auction. (This chart shows how many points each team had on Draft Day, at Season's End, and what the change was.)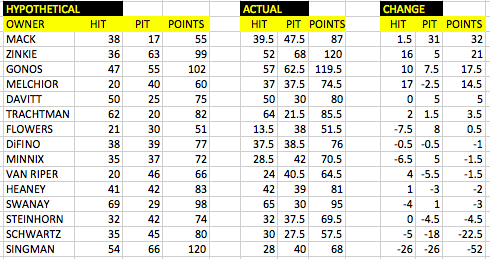 He was also hurt because teams like Eric Mack's made spectacular buys, like Koji Uehara, that transformed the saves category. Of course Eric did a lot of other things right, as well, and gained 32 points, to climb from 14th place to fifth.
The main point is that, while the auction/draft is the most important day of the year, plenty that happens afterwards affects the final standings. Thus did Fred Zinkie move from third to first, turning a surfeit of saves into winning wheels. His and Eric's happy tales are the counter to Paul Singman's nightmare.