Patrick Davitt sat out the first two weeks of Period 4 of Tout Daily. If he had not his resounding Week 4 victory might have moved him into contention for one of the two tickets. Instead he has the satisfaction of a job well done.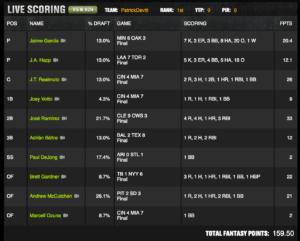 Davitt scored big with the surprising Jaime Garcia, the red hot JT Realmuto, the red hot Jose Ramirez, the red hot Brett Gardner and former superstar Andrew McCutchen. Well done, Patrick.
But the two leaders going into Week 4 were in the lead leaving Week 4. Todd Zola had a big lead going in, finished fifth overall for the week and ended up with 60 more points than Andrea LaMont.
LaMont posted the 10th best score for the week, which was enough to keep her ahead of Phil Hertz and Mike Gianella, barely. Gianella was the Week 3 winner, but his second place finish last night was not enough to put him over the top.
Todd Zola now has two Golden Tickets to the September 1 finals,  a night's play that will determine this year's Tout Daily champion. Previous winners were Charlie Wiegert and Patrick Davitt.
Other tickets won thus far belong to Derek Carty, Howard Bender, Lenny Melnick, Jeff Boggis and Jeff Erickson.
Two more tickets will be given out to the Period 5 winners, and another to the player with the highest point total on the season.  Right now that's Todd Zola, who has a 53 point lead over Derek Carty, followed by Howard Bender, Andrea LaMont and Phil Hertz.
You can see the whole leaderboard here.