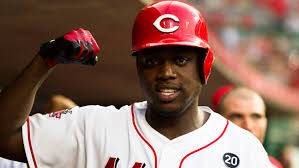 This week's question: There have been several callups in August. Who is most likely to be a contributor down the stretch?
Derek VanRiper (Rotowire, @DerekVanRiper): Aristides Aquino might have already locked up the actual most valuable player called up in August, but I think Josh Rojas has a chance to be one of the most impactful callups down the stretch. The early returns through 13 games are nothing to write home about (.194/.275/.222 entering play Tuesday), but his combination of plate skills, and path to regular playing time (at least against right-handed pitching) for the D-backs should be enough for him to secure a place in the team's 2020 plans as well. On the pitching side, I'm beginning to buy into Logan Webb as the most valuable starter added to a rotation in the past month. Innings-wise, he doesn't appear to have a hard cap that will shut him down early, and pitching half of his games in San Francisco alone makes him a home streamer in most mixed-league situations.
Seth Trachtman (Rotoworld, @sethroto): Beyond Aristides Aquino, Nick Solak looks like he will have the opportunity to be a major offensive contributor. He's become an everyday player since Texas promoted him, getting most of his playing time at DH, and has been in a relatively favorable spot hitting mostly fifth and sixth in the Rangers batting order. Arlington is obviously a nice backdrop for hitters, and Solak has consistently hit as a pro at every stop. He hasn't flashed the steals this year that he did last season (21 stolen bases in 126 games at Double-A in 2018) but has already started to produce for Texas. He's consistently shown batting average and power ability, and could be a nice source for offense at the relatively thin second base spot as the Rangers try to see if he's worthy of a regular spot to open 2020.
Tim McLeod (Prospect361.com, @RunTMc59006473): The news today that David Peralta is looking at shoulder surgery, creates an opportunity for Tim Locastro and he can fly. He could very easily prove to be a difference maker if one is chasing stolen bases. Now that the playing time concerns have been cleared up in San Francisco, Mauricio Dubon is an intriguing option.
Andrea LaMont (LennyMelnickFantasySports, @RotoLady): Sept Callup Intl Lg MVP Ryan Mountcastle Balt
Peter Kreutzer (Ask Rotoman, Fantasy Baseball Guide, @kroyte): As an owner of Dubon in a keeper league I'm hoping Tim is right, but the bigger point is that right or wrong, the issue at this point in the season is playing time. Aquino's massive start may well prove the most valuable, even if he doesn't do another thing, that's in the bank, but for the guys who are just getting the call now the issue isn't so much talent as it is opportunity and who gets hot. Plus who gets the most at bats against the Triple-A caliber pitchers they've already shown they can hit. These are guys you plug into your weakest situations after spending whatever FAAB you have for the guy/s who's/'re the best fit position-wise and cross your fingers. You might get this year's Luke Voit. You might not.
Scott Swanay (FantasyBaseballSherpa, @fantasy_sherpa): Aristides Aquino seems like the obvious choice among those who've made their MLB debuts this month. If we expand the set of players being considered to include guys who've recently returned to the majors and might impact your fantasy team's fortunes in September, I would include Mike Foltynewicz, David Bote, Greg Allen, and Aaron Civale.
Patrick Davitt (BaseballHQ, @patrickdavitt): Agree with Peter that Aquino is the obvious choice for PT reasons, one of few reasons CIN fans will have to buy tickets down the stretch. I'm hoping CHW calls up Luis Robert, who ripped through three levels of the minors and slashed .331/.381/.625, including .302/.350/.637 at AAA. Free swinger, with 4.5-5.0 K/bb ratios. 14 HR/36 RBI/7 SB (2 CS) in 147 AB in AAA as well.
Charlie Wiegert (CDM Sports, @GFFantasySports): You always take notice of a Rockies hitter Sam Hilliard who hit 35 hr's at triple A got the call and homered in his first big league game. The Rockies have good reason to play him a lot in September to see what they've got, so 5-10 HR's is possible !
Glenn Colton (Fantasy Alarm, @GlennColton1): I know this is chalk but Aquino is just so locked in. With time left in August, he already has hit more dingers in his first 100 AB than any other player in history. Oh and hitting in Cincy in the summer will not hurt!
Anthony Aniano (Rotoballer, @AAnianoFantasy): Aristides Aquino. 13 HRs in 102 at bats with a acceptable 22.5% K rate. A wRC+ of 186 makes him a must play and game changer down the stretch.
Eric Karabell (ESPN, @karabelleric): The Rockies still have a nine-game homestand left and finish with 3 games at home, so we cannot ignore outfielder Sam Hilliard, a lefty slugger that hit 35 home runs and stole 22 bases at Triple-A. Perhaps he is not really a prospect, but those numbers were not a fluke. Oakland's Seth Brown is another non-prospect type with swing-and-miss in his game but he bashed 37 homers at Las Vegas and should be more productive than Khris Davis, if the team lets him prove it.
Todd Zola (Mastersball, @toddzola): EK for the win – love those calls. As an aside, why do second division teams call up promising prospects only to sit them when they initially struggle? Isn't that the point of looking at young players, to allow them to get over the hump with little pressure? Sigh. Anyway, hopefully the Seattle Mariners just let Jake Fraley play despite looking overmatched early. I'm also interested in shortstop Willi Castro and hope the Detroit Tigers give him a long leash.
Rob Leibowitz (Rotoheaven, @rob_leibowitz): I am taking a gamble (picked him up last week in AL Tout) that Sean Murphy of the A's gets some significant playing time this September. He's missed a lot of time due to a knee injury earlier this season, but adding his bat and glove behind the plate would be a nice addition to their team. He's currently raking in Triple-A at a high level (.310/.390/.638) (not one I expect to continue), but certainly an improvement over anyone else Oakland is putting out there behind the plate. Hoping he'll be the next Terry Steinbach, possibly with a little more punch and patience.
Clay Link (Rotowire, @claywlink): Nick Solak should be owned in all competitive leagues; he's now batting cleanup for Texas. I'm kicking myself for having Solak as a lower priority than Willi Castro in AL LABR last weekend. I could have had Solak. Castro caught my eye with his .360 wOBA, 113 wRC+, 11 homers and 17 steals at Triple-A, but it's been a tough go for him this week. At least his playing time appears safe. Sam Hilliard is really interesting. The Rockies are baffling in how they handle prospects, but Hilliard is off to a nice start, and David Dahl is still not even jogging on his injured ankle. Hilliard will likely be a top add this week, and I think for good reason. I'm also looking forward to seeing what Sheldon Neuse can do, and I'm getting a sense that Bobby Dalbec is increasingly likely to get the call. Dalbec could get his feet wet with Mitch Moreland set to become a free agent this offseason.
Phil Hertz (BaseballHQ, @prhz50): Besides the obvious Aquino pick, I like Hilliard next.
Justin Mason (Friends with Fantasy Benefits, Fangraphs, Fantasy Alarm, @JustinMasonFWFB): Kyle Tucker is reportedly going to be up September 2nd. He should have a huge impact the rest of the way.
Al Melchior (FNTSY Radio, @almelchiorbb): Aristides Aquino, Nick Solak and Sam Hilliard have all been mentioned, and they would be my top three in that order. This is far more speculative, but there's a chance that Paul Sewald could enter the Mets' saves picture. Of course, Sewald isn't a rookie, and he had even been up earlier this year, but since getting called up in mid-August, he's been an entirely different and better pitcher. He has 13 Ks in 7 IP with a 15 percent SwStr% and a 22% called strike rate. His velocity is up considerably, so he may sustain this, and there could be an opportunity to replace Edwin Díaz and allow Seth Lugo to set up.
Brent Hershey (Baseball HQ, @BrentHQ): Good names throughout here, as I'm a late-season fan of Solak, Hilliard and Bobby Dalbec (AB-dependent of course; but has the raw power to go on an Aquino-lite Sept HR run). But how about a pitcher? This one is a deep leaguer, for sure, but Hunter Harvey seems like he's carving out a late-innings role for BAL; they're certainly pre-disposed to trying stuff in Sept. Harvey started at Bowie, but I don't think his RP numbers at AAA have quite gotten the attention they deserve: 22K / 5 BB in 16 IP. Similar results in MLB, and we all know that BAL bullpen has been in flux all year. Could be as good a choice as any to grab a save or four over the next several weeks.
Perry Van Hook (Mastersball, @): well IF he gets the call, I would bet on Gavin Lux who would be playing second base for the Dodgers. Max Muncy is on the IL with a crack in his right wrist but the Dodger brass hasn't made a decision yet on whether they will bring Lux up next week as they're hoping Muncy won't be out long
.
Todd Zola: Agreed Perry, but that's usually earlier in the season with high profile prospects. When you call up someone in August, there's really no time to send them back down. With guys emerging this season and not gifted with prospect pedigree, may as well let them learn under fire. One last general point, some second division teams may wait until the minor league playoffs are over (if they're involved) before advancing prospects. The example Rob offered, Sean Murphy is a good example as Las Vegas has teh best record in the PCL. And TZ – sometimes when young players struggle the club doesn't want them to go through a prolonged period that might affect them mentally so they send them back down before (they think) that will happen