Just three days remain in the final weekly contest of the Tout H2H regular season, and while Clay Link sits safely atop the standings, earning a first-week bye, there is plenty of other action as teams scramble toward the playoffs.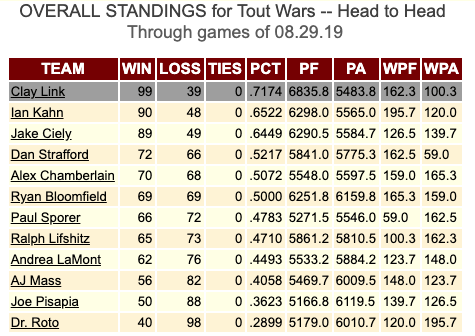 Ian Kahn and Jake Ciely are locked in a duel for second place, which earns the second place team a first week playoff bye. These standings reflect the current state of this week's games (remember that each week a team can win 2 points for winning hitting, 2 points for winning pitching and 2 points for winning the overall points, or lose 2 points in each for losing hitting, pitching and overall).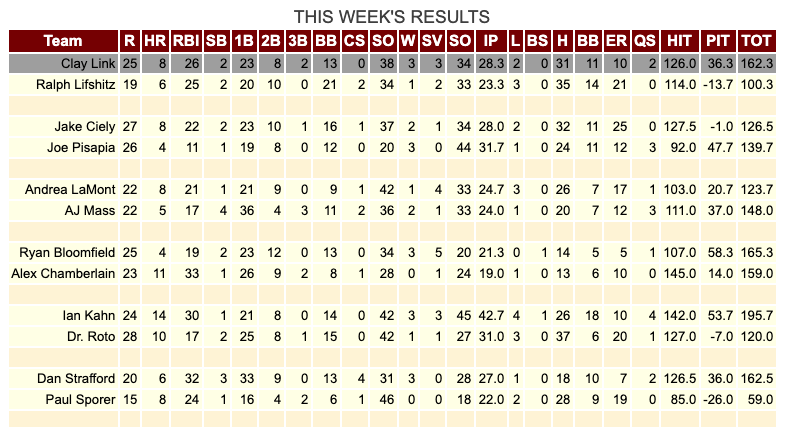 Coincidentally, Ciely and Kahn are playing the teams with the worst records going into this final week, but while Kahn has so far done what's necessary, Ciely's pitching has struggled. He has a bunch of starters with tough matchups this weekend, while Joe Pisapia is throwing mostly relievers. The bottom line is Ciely needs to hold onto his hitting Ws while also winning either the pitching or overall points to secure second place on his own. He otherwise needs Kahn to falter.
In the battle for sixth place, which is existential when it comes to playoff chances, Ryan Bloomfield is up 4-2 on the week over Alex Chamberlain, who is in fifth place on the season, while Paul Sporer is down 0-6 to Dan Strafford, who is overall fourth. This promises to be a fraught weekend for Bloomfield and Sporer, with Bloomfield having the bigger margin of error (if he takes the hitting points, too, from Chamberlain he should find himself in fifth place).
A reminder about the playoff format: The first week, teams 1 and 2 have a bye. 3 plays 6 and 4 plays 5.
The next week 1 plays the lower seeded remaining team, while 2 plays the higher seeded remaining team.
Weeks 3 and 4, the two remaining teams face off for two weeks. The winner is Tout Wars H2H champion.